Certain tools are life savers when it comes to self-sufficient living. Buying a freeze dryer for home use may not be one of them for everyone. But let me tell you. It's come in handy in this apartment.
This post may contain affiliate links. As an Amazon Associate I earn commissions from qualifying purchases made through links on this post at no extra cost to you. Click here to read my full disclosure.
Mr. Traditional and I welcomed our first child this past winter. Read more on our home-birth story here. Being the old-fashioned couple we are, we planned to breastfeed. Being the city-living girl I am, I did not plan to store away a "stash". We had discussed that I would negotiate a work from home situation with my company after my maternity leave ended.
So, I didn't think it would be necessary to have a stockpile of breast milk. I also naively thought that a stash would only happen if I pumped. And for several reasons, I had no intentions of doing that either. At least not via electronic means. Lastly, our standard refrigerator/freezer combo didn't seem practical since we'd just purchased 1/8th of a cow. Not to mention the other food items we keep on hand.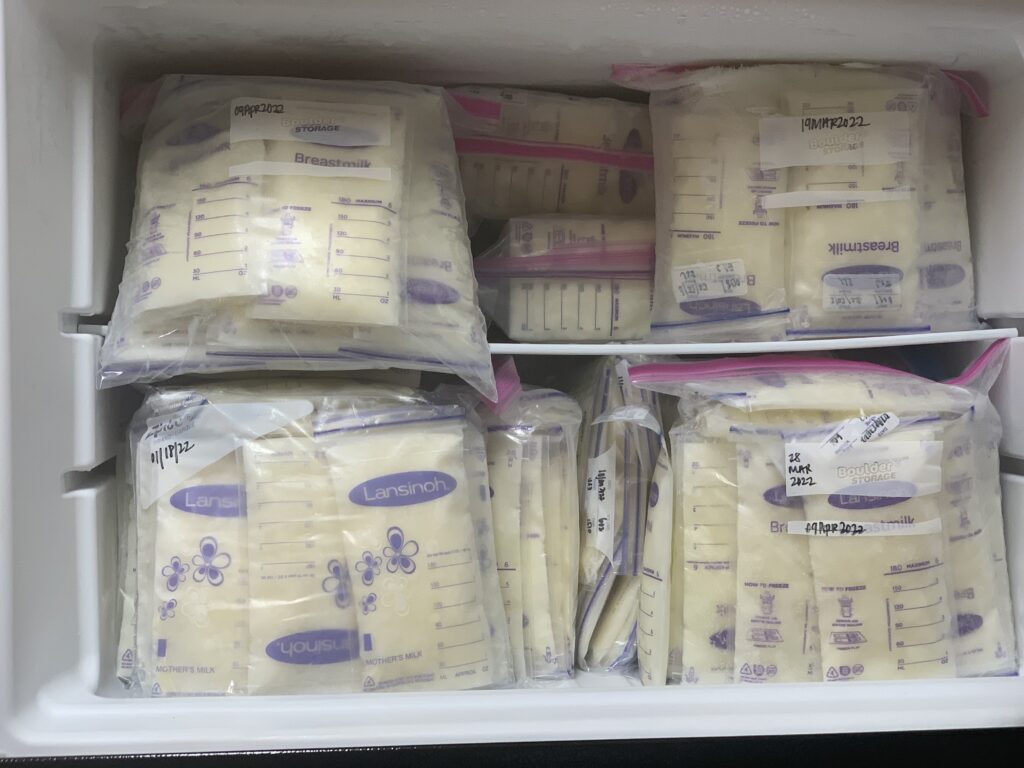 Fast forward a few months and we found ourselves nearly overrun with milk. While storing it hadn't been my plan, obviously, that's what we ended up doing. With nothing but my trusty Hakkaa (a manual breast pump) catching let-downs, I built a stash of over 1200 oz in about 3 months. Totally unplanned. But now we had to get creative and move to Plan B.
Thankfully, our path to increased self-sufficient living has taken us down a lot of roads of research. That's how I came across the freeze dryer concept.
So, can you even buy a freeze dryer for home use? Yes. Yes, you can.
While there are commercial and pharmaceutical grade freeze dryers, there are also home-use freeze dryers too. My research on freeze dryers happened long before we considered purchasing one for the breastmilk. But as things go, life happened and it got moved to the back burner. I knew there were many benefits to owning one. But their price tag didn't make the most sense at the time. So, the plan was to revisit the purchase later down the line.
This equipment is a pretty unique piece of machinery. But buying a freeze dryer for home use has so many options.
The majority of home uses I saw was people using the units to preserve their garden harvests. Many people also freeze dry leftovers from batch meal preps as MRE meals. They can be used for survival if needed or things like hiking and camping trips. I even discovered a subset of people using their machines to freeze dry candy.
But we aren't growing food currently. I also strategically prep meals so there aren't tons of leftovers. Meaning I didn't feel the cost justified the purchase at the time. Nonetheless, we started saving for one.
But then came February. And our conventional freezer was already quickly running out of space. We considered a chest/deep freezer. But there's no place to practically keep one in our apartment with all the exposure to sunlight.
So, I began moving our food to the freezer door. The only place I wasn't going to store the breastmilk. Taking more and more of the shelving real estate for more and more 6-oz filled Lansinoh breastmilk storage baggies.
It was only a few days later that I realized it didn't matter how quickly we ate the rest of the food. Milk was going to explode out of the freezer before anything else.
So, here's an obvious question: Why not just use the milk to feed baby?
Well, primarily because we weren't (and still aren't) ready to switch to bottles. Although we discussed it, Mr. Traditional said he didn't feel a need to bond through feeding yet. So, as he does now, he continued to support me in our breastfeeding journey.
We could have used some for breastmilk baths. And we did just once or twice. But there wasn't much way to quickly use up so much milk. So, we revisited purchasing a freeze dryer. A purchase we had already been saving for, but didn't think we'd buy so soon.
The plan was to use the freeze dryer at home to process the breastmilk into shelf-stable powder. Our own homemade baby formula. And the state of current events has me grateful we have the opportunity.
Our desire to live a self-sufficient life didn't end because of children. In fact, it intensified. Before our son was born, we heavily discussed infant feeding. We considered and created a plan for the "what ifs" of breastfeeding.
"What if my supply isn't sufficient?" "What if we can't support breastfeeding 100% for as long as we planned?" And even, "what if I'm not able to work from home?"
But is it cheaper to freeze dry your own food? Or breastmilk in this case.
When researching freeze dryer home uses, I honestly didn't find too many people freeze drying their own breastmilk. That's likely because there are companies to do that for them.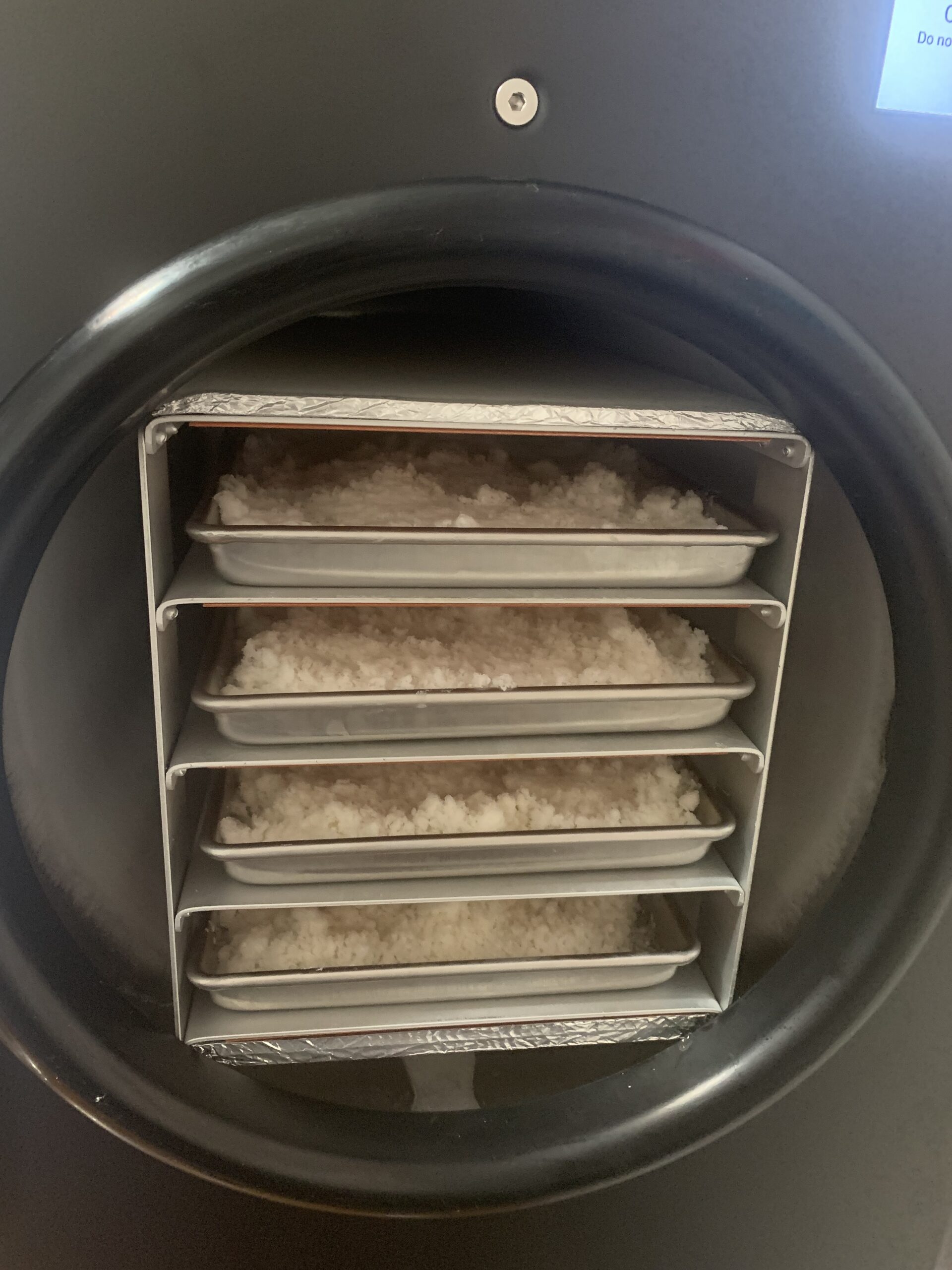 So, I compared some services with freeze drying my own breastmilk at home. The results were astounding.
Provider
Cost for 1200 oz (Feb.)
Cost for 1400 oz (Apr.)
Service #1 (Booby Food, CAN)
$2730
$3085
Service #2 (Milkify, USA)
$2290
$2615
At home processing
$2975
(includes storage bags/absorbers)
—
Cost comparisons for freeze drying breastmilk
We weighed the pros and cons. For instance, Booby Food required I purchase my own shipping supplies including dry ice but Milkify provided everything. Both services offered discounted shipping, but the shipping costs were still expensive considering it would have to be overnighted. And in the case of Booby Food, it would mean shipping international for me.
Perhaps the biggest downside was the order backlog. Both sites wouldn't accept my order until up to 4 months after I'd already reached freezer capacity. That only meant more milk to process and more money on provider services. Although donating to milk banks is also an option, we did not fully pursue it at the time.
The possibility of freeze drying my breastmilk at home became the best option for us after considering the cost and effort. Besides, having a unit would be helpful for other food related things and increase our self-sufficiency that much more.
And that's why we purchased a Harvest Right freeze dryer.
But you can imagine my horror when I discovered there was an 8-10 week delay on receipt! That meant delivery wouldn't be until mid-April. We wouldn't be able to store two more months' worth of milk in the freezer. But we had to try since we were committed to this avenue.
I returned onsite to work one day in March. The first time my baby had ever eaten without me. I was nervous that he wouldn't take a bottle because of any differences in nipples. Despite my research that led us to purchase Comotomo nipples, compatible with our mason jars as baby bottles. I also thought there was a chance he wouldn't like the defrosted milk because of potential lipase issues.
Sure enough, at his mid-morning feed Mr. Traditional called me. My baby wasn't taking the bottle due to a terrible metallic flavor. Thankfully, I had freshly "pumped" milk in the fridge from our last feeding earlier that morning. With that subbed out, my baby did ok feeding from the bottle. I was home by dinner time and he easily returned to breastfeeding without hesitation.
I didn't go back onsite after that. So, milk kept piling up in the freezer. By mid-April, I was desperate to start freeze drying, but our unit still had not arrived. It was late.
By the time it came (only about a week later than expected), we had amassed a little more than 1400 oz. of milk. And there was only a handful of hodge podge items in our freezer door. We were no longer buying any groceries that required freezing because there just wasn't any space to put it. Things I usually stock up on and freeze began to dwindle also.
If you're on the fence and wondering if freeze dryers are worth it, I'd say yes.
The week we received our freeze dryer unit, we tested it and began processing batches of milk. Each batch converts ~120 oz of frozen milk into a beautiful powder in about 36 hours (sometimes more).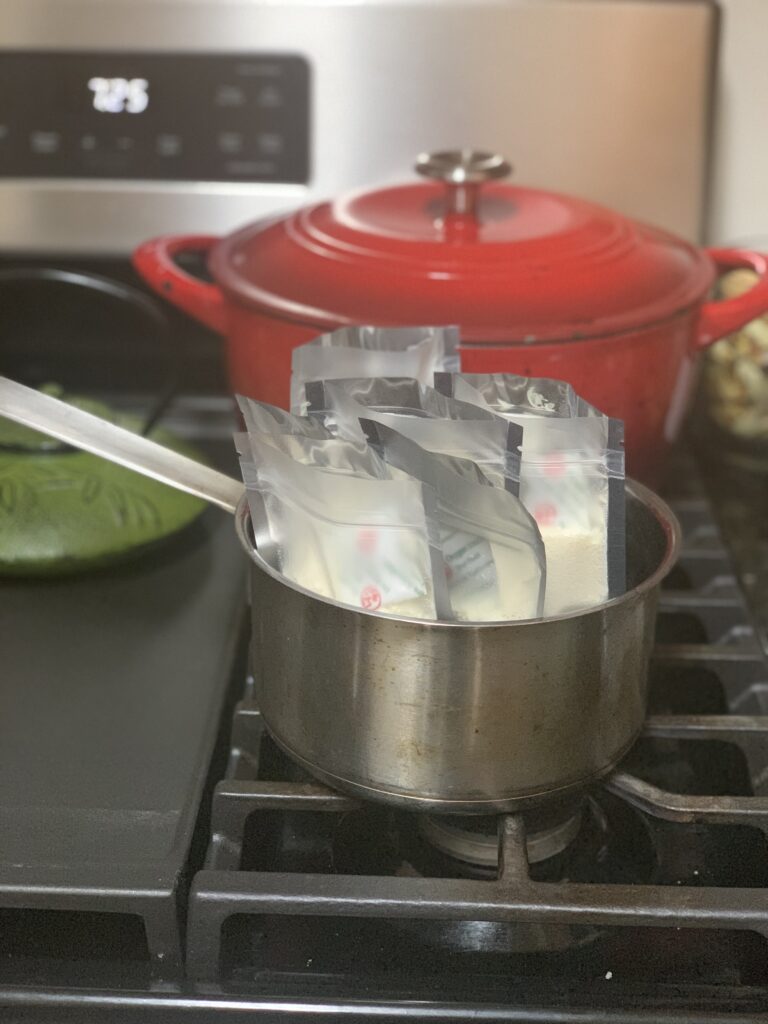 Once it's successfully dried, I pulse the dried breastmilk in our food processor to break it up into fine powder. I then store ready-made portions in Mylar bags with oxygen absorbers and seal them with the impulse sealer that came with our freeze dryer. Labeled and stored in a 5-gallon bucket, we've been able to extend the use of nutritious breastmilk. We've also recouped our freezer space! Just in time for our local farms butchering season.
The unit is a big investment. And this part of our journey started as one couple fighting against a newborn and new-Mom's body for freezer space. But now the possibilities are endless.
Is this a move we would likely have gotten around to? Yes. Do I regret having sped up the process though? Not at all. My family has regained some balance now that we have a freeze dryer. And for that I'm extremely thankful.
I'm also glad it's not as noisy as I feared considering the small space and paper-thin walls! Maybe you're unsure if buying high priced machinery is right for you. And that's a valid concern. But if you're in a position to make that kind of move, consider investing in yourself, your family and your future. This experience was crazy for sure! But, now that we're on the other side of it, the possibilities are really endless.
This post may contain affiliate links. As an Amazon Associate I earn commissions from qualifying purchases made through links on this post at no extra cost to you. Click here to read my full disclosure.
the Village Reservoir
Your one stop shop for all the great resources recommended in this post.
Village Posts:
Virtual Resources:

Breastmilk Freeze Drying Services
Breastmilk Banks I looked into:

Recommended Supplies: