It's always the right time to become more self-sufficient. But there's never been such an urgency like in today's climate. With everything that's (been) going on, supplies are in high demand everywhere and inflation is beating everyone right now. So, I'm on a mission to increase my level of self-sufficiency by focusing on 3 key areas in my life – self, family and home. Today, let's talk about the home, specifically crafting the ultimate powerhouse: a self-sufficient kitchen.
This post may contain affiliate links. As an Amazon Associate I earn commissions from qualifying purchases made through links on this post at no extra cost to you. Click here to read my full disclosure.
The goal when focusing on self-reliance in the home is creating stability. That's the ultimate form of sustainability I think of. And there are so many sub-areas that contribute to having a self-sufficient home.
They include:
Energy consumption
Amenities (think—garden, animal husbandry, woodworking or sewing shop)
All things kitchen/food related
Financial stability, etc.
All of those areas need attention to some degree but let me explain how to target the kitchen. A traditional, self-sufficient kitchen is one that provides or preserves the food a family needs. It also remains stocked with essentials to make first aid remedies, herbal tinctures, tonics and even household necessities like laundry detergent. The kitchen is likely the center of most traditional homes and not just because that's where the meals are made. So, it's important to me that my largest effort regarding increased self-sufficiency be in our kitchen.
In my kitchen, I can be as adventurous or creative as I have time to be. It's the place where I can pretend to be a contestant on Food Network's Chopped. Because honestly, I don't always have dinner cooked ahead of time. The kitchen is where memories are made. Like when Mr. Traditional and I have at-home date night adventures making homemade ravioli or compete in our own version of Chopped-like games. This is where I teach my baby how to clean dishes, ferment foods, make vinegars and so much more. Even while living in the city. While it's quite small, my kitchen is certainly the heart of this house. It's my domain, my sanctuary and truly the engine of our home.
The goal of a traditional kitchen is nourishment to the body which enriches the family. And a self-sufficient kitchen provides stability. So, the kitchen is the perfect place to take this deep dive. But there are some very important points to consider.
First, a self-sufficient traditional kitchen needs to have a plan for food as nourishment. This means incorporating traditional foods into the house-loved meals. Food is the star of the kitchen especially when involved in so many of the outputs. It also means improving traditional kitchen skills and adding appropriate equipment into the mix.
Second, the self-reliant kitchen needs a plan for maintaining and using resources for other home essentials. A well-equipped kitchen has a combination of the right foods, skills and equipment. And such a kitchen will easily replace conventional items with a little planning and elbow grease.
So, what does this self-sufficient, traditional kitchen look like? It's well-stocked, yes. But it's stocked with the right kind of tools. Those tools are food, skills and equipment.
Maybe you've heard about traditional foods or wonder what they are. Traditional foods are homemade foods vs store-bought. They are also whole foods – pastured meats (including organ meats), raw and cultured butter, eggs, cream and other dairy products. Bone broths, fresh veggies, herbs and fruit, fermented foods and whole grains. Sally Fallon's book Nourishing Traditions is one of the most well-respected books of traditional kitchens. An excellent resource to learn more. Additionally, you'll learn a great deal from Mary (of Mary's Nest) on the subject of traditional foods/kitchen.
I live in the city and know the spiel about organic, non-GMO, farm-raised, etc. etc. Most of which is marketing nowadays anyway. But I only discovered traditional foods 2 years ago. Some may think it's difficult or expensive to eat a traditional foods diet. And in some ways, that's true. I'm not a fan of the price hike between $4 conventional milk and $11 raw milk. And the struggle to find local farms or dairies is really real. There are sites that help: EatWild.com, Real Milk.com, Weston A. Price's local chapters-USA / International). But we still have to travel a couple hours away to find cleaner meats and fresher eggs.
True fact: While there are farms closer to us, the problem is the raw milk. It's illegal to sell it for human consumption in my state. So, since we want it, we have to travel to a neighboring state where it is legal to sell. Alternatively, we can pick it up (also in another state) through cow-shares. Although not as local, we avoid splitting farm bills and paying more in the process this way.
In other ways, the cost in time, effort and money far surpasses a life of shopping at the local supermarket.
For one, making such a move is empowering. It gives me the confidence that we can be more self-sufficient while also taking measures to safeguard our health.
I realized converting from a processed foods kitchen to a traditional foods' kitchen was a real possibility when I read Animal, Vegetable, Miracle. It's about a family of 4 who only eat what they grow on their farm or source extremely locally for 1 year. And they did it in southern Virginia. A place I might have thought was too "city" to pull off such a stunt. It's a great read for this topic.
Incorporating traditional foods almost immediately starts paying benefits in the self-sufficient kitchen. Scratch-made food is cheaper than buying pre-made convenience meals. It's also healthier because there are fewer ingredients which mean less places to hide the junk! Extra effort is sometimes required for prepping and executing. But there's no comparison to the pride of knowing a healthy breakfast is already taken care of for a couple days. Or the dinner you'll enjoy sometime this week is a wholesome, nourishing tender roast you made all by yourself!
Ok, ok. So, the crock-pot cooked it. You get the point. Traditional foods are a sure-fire way to increase self-sufficiency in the kitchen. Since becoming traditional in this aspect, I found some favorites. Kefir made from raw milk. And chicken broth made with vegetables, chicken bones/feet and aromatics. The best cup of "joe" I've ever had. Plus, the pasture-raised beef turned into burgers or meat pie has also become a staple. These foods weren't new to me because I enjoyed the conventional versions before. But they certainly didn't carry any frequent flyer miles with me though and now they do.
And don't just get excited about eating those good foods. One important practical life skill women should master is food preservation.
Wouldn't it be great to have those good foods ALL the time? Even when you're late getting home after fighting rush hour traffic? That's the power of a self-sufficient kitchen.
Never fear! Traditional kitchen skills are coming to your rescue! There's so much room for growth here. From learning to make homemade bread and dairy products to dehydrating or freeze-drying food! The kitchen is one of the best places to learn a variety of self-sufficient activities. Other traditional kitchen skills would include: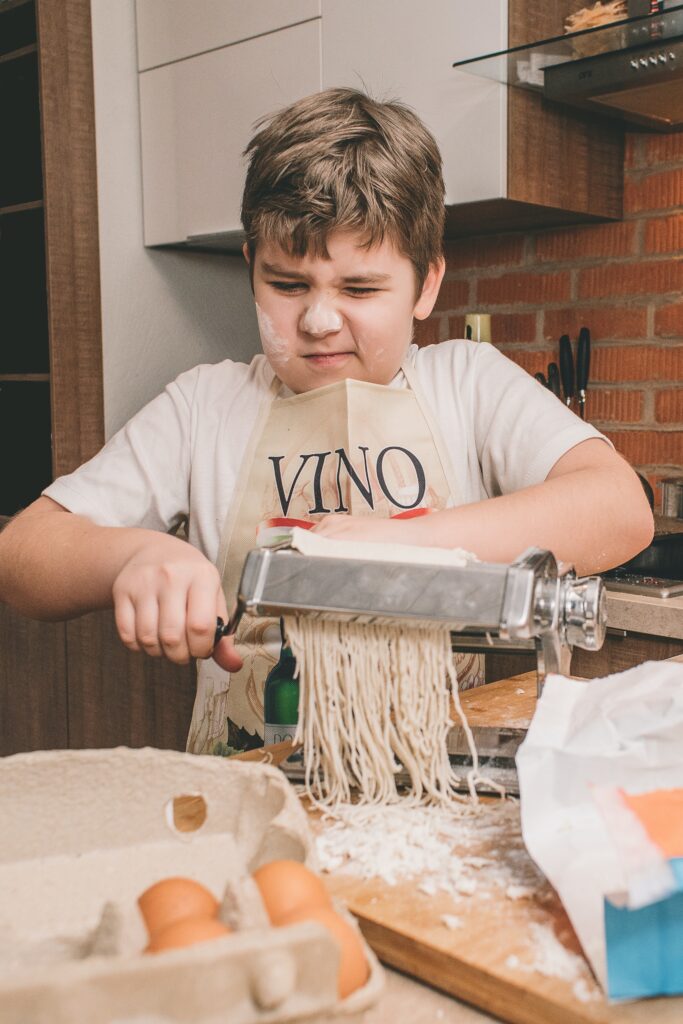 Learning to ferment foods
Making stocks and even pasta!
Deboning a chicken (and processing other meats too)
Working with sourdough
Meal planning
Growing something (whether in a garden or on a balcony/windowsill)
Cooking with a wood stove
Soap making and candle making
There are so many ways to get involved with owning your level of self-sufficiency in the kitchen. Even if you don't or can't eat meat, dairy or seafoods. Learning to regrow scraps, make vinegars and cook with ancient grains like kamut, spelt or einkorn will serve any traditional woman well.
When it comes to food, it's time to stop relying solely on frozen goods. Doing that instantly opens the door to a higher quantity and type of food items. And that amounts to less money spent at the grocery store. But it gets better.
As bad as they may seem, varied preservation methods are the best way to increase self-sufficiency. That's because they lock in "right now" prices.
We could all use the luxury of knowing that food we eat or use a few months to a year or more from now will be cheaper than buying it at inflated prices.
Another felt benefit of being more self-sufficient is there's no risk to the quality of food. Not when stored properly anyway. The type of food preservation determines the length of time something can last. Various dry goods in Mylar bags can last more than 5-10 years. Some canned foods can last beyond a year. And besides nutritional value, many preserved foods retain much of their flavor too!
The last component of this traditional, self-sufficient powerhouse is the equipment. And that can be overwhelming when just starting out. Or, it might be like taking a kid to the candy store if this is your jam (pun intended).
Either way, we need the basics. This includes things like:
A good set of wooden spoons and flour sack towels
Stock pot and Crock-pot
A (set of) cast-iron pan(s)
Kitchen scissors, quality knives and cutting board
Jars, jars and more jars! (Be sure to stock some amber, dark colored ones for the medicine cabinet)
Candy thermometer
*Having a pressure canner can do double duty for water bath canned goods. Alternatively, you can use that large stock pot to water bath can – but NOT for pressure canning. The USDA provides guidance for all home canners in the USDA Complete Guide to Home Canning. A free guide that walks through every type of canned product (veggies, fruits, seafood, jams, etc.). Plus, has all the info you need for water bath canning vs pressure canning. I have a version of the Presto pressure canner that is compatible with induction ovens. So, check your manufacturer's recommendations first!
This setup is reasonably affordable and a lot can be thrifted. To take it up a notch, consider investing in these things:
A dehydrator
Vacuum sealer
Grain mill
Electric roaster (18qt or larger)
Kombucha crock
Cheese press
Solar oven
Berkey water purifying system
Now, are some of these things on my wish-list? Of course! But this set of items aids in increasing the self-sufficiency of the kitchen. They offer other methods of preserving and some ease the burden of the traditional woman. Just what we need, right? However, they are higher ticket priced items. To be as self-reliant as possible, try to source non-electric versions. This way you're covered if power failures happen.
So, when it comes to deciding where to start when transforming or expanding your traditional kitchen, consider its value. The end-game is increased self-sufficiency so lose anything that doesn't make that a reality.
Is it something that meets a need?
Does it promote further growth?
Will it satisfy a want?
If an item in question doesn't meet these requirements, it can probably be let go. Don't be discouraged! We are capable of learning anything. All it takes is a conscious decision to keep moving forward. Whether you grew up in a home where these skills were regularly employed or not, you can do this. If you come from a background of eating traditional foods and even if you don't, you can do this! If you live in a city or on an acre or two, you can do it. No matter if you're more of the "slow and steady wins the race" type girl or a "dive in head first" kind of gal, you most certainly can do this. Even when strapped for time or funds, there are small ways to make progress.
Imagine the longevity that you can achieve in your kitchen. And crafting a powerhouse like that will spread stability to the rest of your home too.
Trust me. Your future self will thank you for prioritizing becoming more self-sufficient.